Celebrating the Trail Legacy of Monty Montgomery
Category News, Spotlight On | Posted on August 23, 2018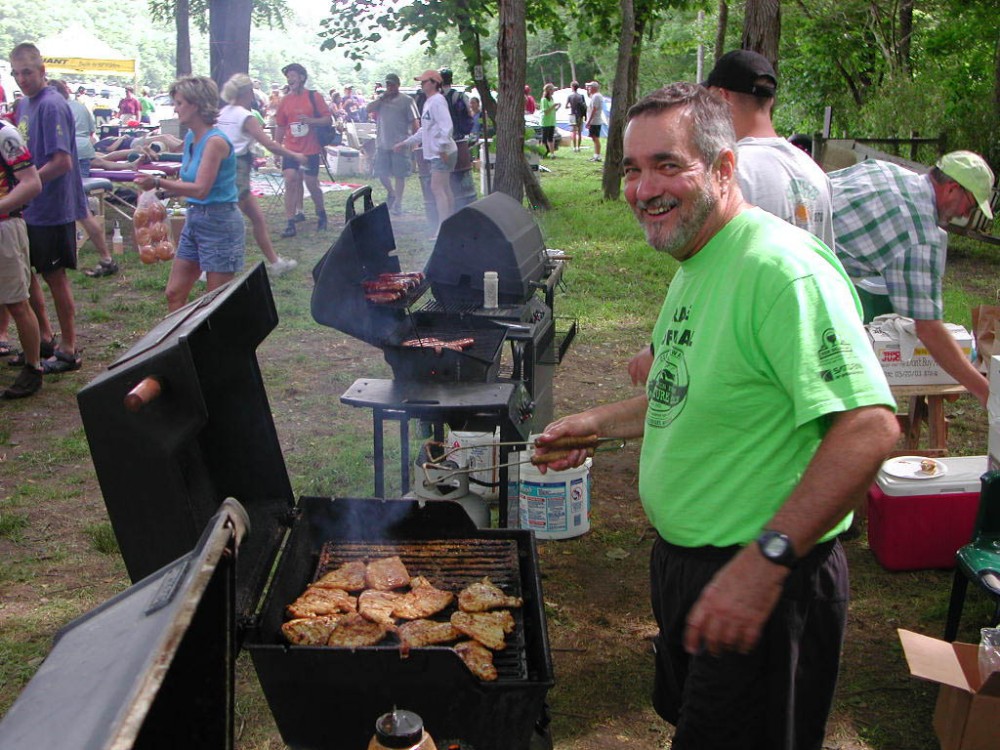 Pictured in 2003: Monty Montgomery cooking up a delicious feast for over 500 people at the annual Ozark Greenways Adventure Race fundraiser, that he created and managed for 13 years!
A Trail Legacy: Monty Montgomery (1943-2018)
The Ozark Greenways family is deeply saddened by the passing of one of our dearest members, Past President, trail advocate, and long-time friend, Monty Montgomery, on August 19, 2018. He was a great supporter and advocate of Ozark Greenways. He inspired countless individuals to explore our beautiful Ozarks through bicycling, hiking, and running all while promoting fun and fellowship.

In honor of Monty's work in trail advocacy in Springfield Missouri, the National Recreation Trail organization, American Trails, has created this special page to reflect on what an outstanding man he will always be remembered as. Click here to read: American Trails Honors Monty Montgomery

Hershel Preston "Monty" Montgomery Jr., 75, of Springfield, MO, passed away August 19, 2018, with loved ones at his side. 

Monty was born in Lebanon, Missouri, to H.P. "Jude" and Mary Belle Brackett Montgomery on July 26 1943, and moved to Springfield Missouri in 1956, with his parents and four younger brothers, Bill, Bob, Tim and Tom.

Monty's love for his brothers and the adventures they had throughout life can not be understated. From roaming the neighborhood and countryside as children, to traveling across the country on business, hunting or NCAA Final Four trips and jaunts to visit Tom and Bob at their respective homes, they had the time of their lives with each other.

He attended Eastwood Jr High, and graduated from Central High School in 1961, making several life-long friends in the process.

Monty joined the United States Marine Corps after high school, and spent six years in the USMC reserves. In 1962 he enrolled at Southwest Missouri State College, graduating in 1966 with a degree in business administration.

Following graduation, Monty and his father purchased the GMC truck dealership in Oklahoma City, OK, where he would spend the next several years as president of the company. At 22 years old, Monty was the youngest GMC dealer in the country at the time. Monty remained in Oklahoma City until 1974, when he returned to Springfield to rejoin the family business, Montgomery GMC Trucks Inc. where he worked with his father and brothers until they sold the dealership, in 1987. Monty continued in business with brothers Bill and Tim as owners of Montgomery Truck and Trailer sales, and then G&P Truck Line, until 2010 when he became the sole owner of G&P, and remained working there until his death. Monty's sons and nephews were included in nearly all of the family business ventures, in some way, shape or form. He had active business relationships with some of the same individuals in 2018, as he had in 1966. 

In the early 90's Monty began running as a way to shed extra pounds he had gained when he quit smoking. In his own words "It was strictly for weight control, but immediately it became great fun." He became an avid runner, cyclist, triathlete, and adventure-racer with a collection of over 200 race/event t-shirts to show for it, including one for his completion of the Ironman Canada Triathlon. This hobby served as the foundation for a wealth of friendships, travel, and adventures which he adored until his death.

Combining his love of running and leadership roles, Monty began a volunteer coaching career providing guidance to first-time runners and racers participating in short, medium, and long-distance running and athletic events. He coached members of the Leukemia and Lymphoma Society/Team in Training, American Diabetes Association/Team Diabetes, The Arthritis Foundation/Joints in Motion, and traveled across the country to cheer on his trainees during these events. He also served as president of Ozark Mountain Ridge Runners.

In addition to his running/coaching volunteer duties, Monty also held several board seats and volunteer positions with many wonderful community organizations, including the Parkinson's Foundation, Abilities First, Developmental Center of the Ozarks (DCO) and Ozark Greenways. He was the co-creator and co-race director of the Mark Twain/Ozark Greenways Adventure Race, which in its 13 year run, was the most lucrative (and fun) yearly fundraiser for Ozark Greenways.

Of course, Monty took any and every chance to integrate his love of cooking into all of the aforementioned activities. From Hamburger Soup, to Coquille St. Jacque, home-made ice cream to his legendary Seafood Gumbo, he loved cooking for his friends and family.

Of all his business, athletic, social and community accomplishments, Monty was most proud of the children he raised with former spouse Marti Woodside Montgomery, and the fine adults their children have become. They raised three loving, strong, funny, smart humans whose upbringing prepared them to tackle the joys and sorrows of life with wide eyes and open arms. What a priceless gift we have been given.
---