New Features on the Frisco Highline Trail
Category News | Posted on October 13, 2016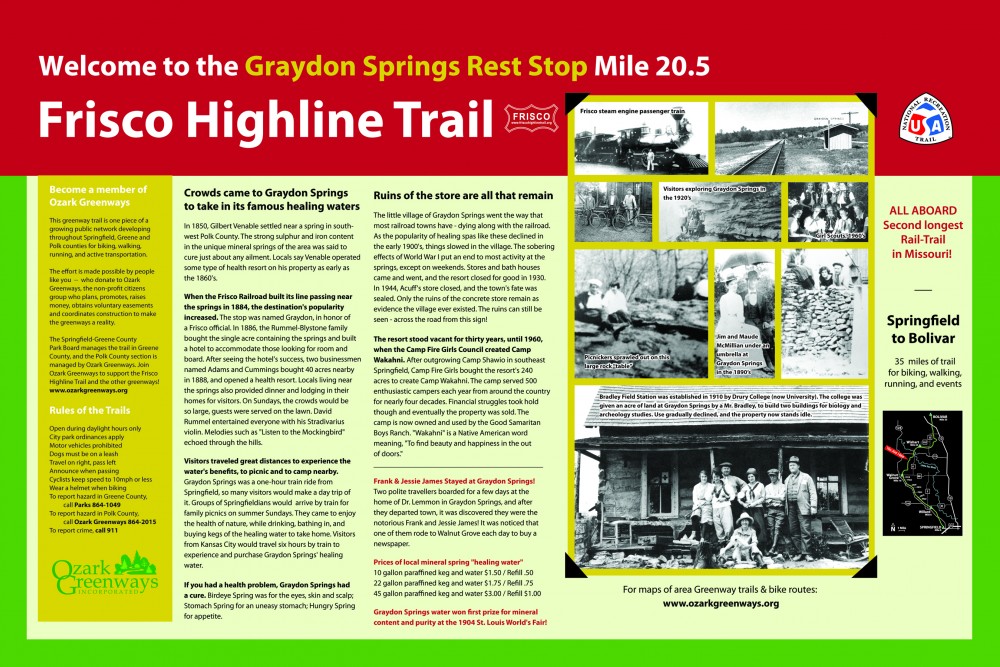 Watch for several new features that have been installed along the Frisco Highline Trail, including new mile marker posts and four interpretive kiosk displays. The new kiosks highlight stories about former railroad villages that once flourished along the route before train service was mostly replaced by other modes.

Graydon Springs at Mile 20.5 (Kiosk sign shown above) - Did you know that in the mid to late 1880's, people came from all around the world to experience the "healing" sulphur and iron mineral waters of Graydon Springs? The ruined foundation of the store post office is all that's left. A gallon of mineral water from Graydon Springs won first prize for mineral content and purity in the 1904 St. Louis World's Fair!

The three other kiosks are about Wishart, Bolivar and a history of the hobo lifestyle that was once commonplace along the Highline. The Hobo Haven Bridge was a temporary home for many hobo travelers before and after World War II.

Go see them for yourself, and let us know what you think!
 
---