Spotlight On: C.C. Riders Women's Club
Category Spotlight On | Posted on September 14, 2015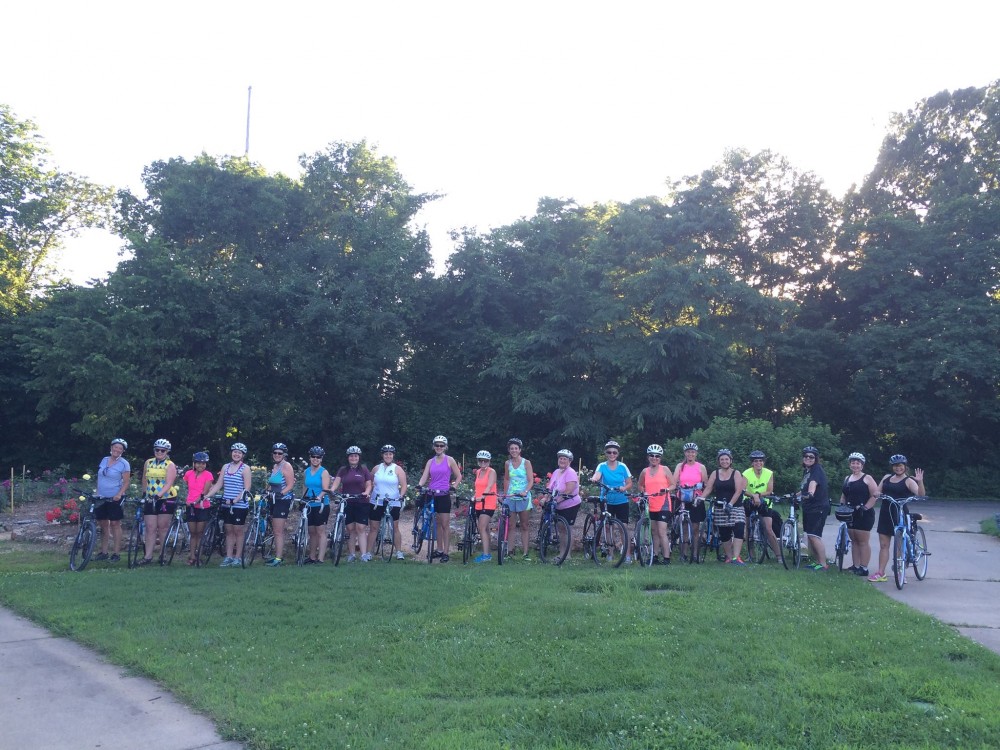 By Donna Johnston
I started biking in the summer of 2011, after not riding since college—more than thirty years ago. After riding by myself around the neighborhood, and on South Creek Greenway, I was finally brave enough to go on my first Springbike group ride. Unfortunately, I was completely intimidated when I couldn't begin to keep up with the group, so I kept riding mostly by myself. Then in 2013, my friend Dottie Peterson had the idea to start a women-only riding group, the C. C. Riders ('Cool Chicks').

We started meeting weekly on Tuesday evenings at 6:30 pm, at Sunshine Bike Shop (1926 E. Sunshine, Spfd.), and the owner, Kay, and the guys at the shop helped us spread the word. After that first year, Dottie moved away and I kept the group going. I guess we weren't the only ones looking for this kind of group because it quickly grew into a nice sized group of fun people, and it continues to grow!

C.C. Riders is for women who are new, returning to cycling, or just like the encouraging and social atmosphere. What better way to start riding than with a welcoming group of other women—some seasoned, some not—no competition and nobody left behind! Our more seasoned riders will take newer riders under their wings to give whatever instructions and support they need, whether it's how and when to shift gears, tips on hydrating and eating for longer rides, or how to adjust their equipment to be more comfortable and efficient. Some of us are interested in similar types of rides, so we get together for other rides all throughout the year.
Our rides are very social. We usually stop for dinner, ice cream or snacks along our route and make it back to the bike shop around 8:30pm. Our bikes are lit up like Christmas trees and, I admit, we look like a rolling circus after dark, but I guarantee you can see us! The average Tuesday night is 12-15 miles, but even new riders lose track that they have ridden farther than ever have because we're chatting and having fun.
In 2013, we had about 10 riders, and by 2015, we averaged 25 riders, with 127 members and growing. Setting up our Facebook group page has allowed us to easily share ride information and plan impromptu rides anytime. Plus, it's fun to share other cycling related information there and get to know each other.
To join our Tuesday night rides, they are found on www.meetup.com in the local 'Take A Hike' group. You will need to set up a free Meetup profile in order to register for the rides. We will continue our weekly rides through Daylight Savings time and then post weekend rides as weather permits through the winter. We ride as long as anyone is willing to! Helmets are required on all our rides, and a headlight and taillight (minimum) are required for the Tuesday evening rides because we get back after dark.
So whether you can join us or not, if you see a large group of women cycling around town together on Tuesday evenings, give us a wave and say hi! If you'd like more information or have any questions, contact me, Donna Johnston, at donna-johnston@sbcglobal.net
---