Thank you Trails for Generations Donors
Category News, Projects, Spotlight On | Posted on March 13, 2017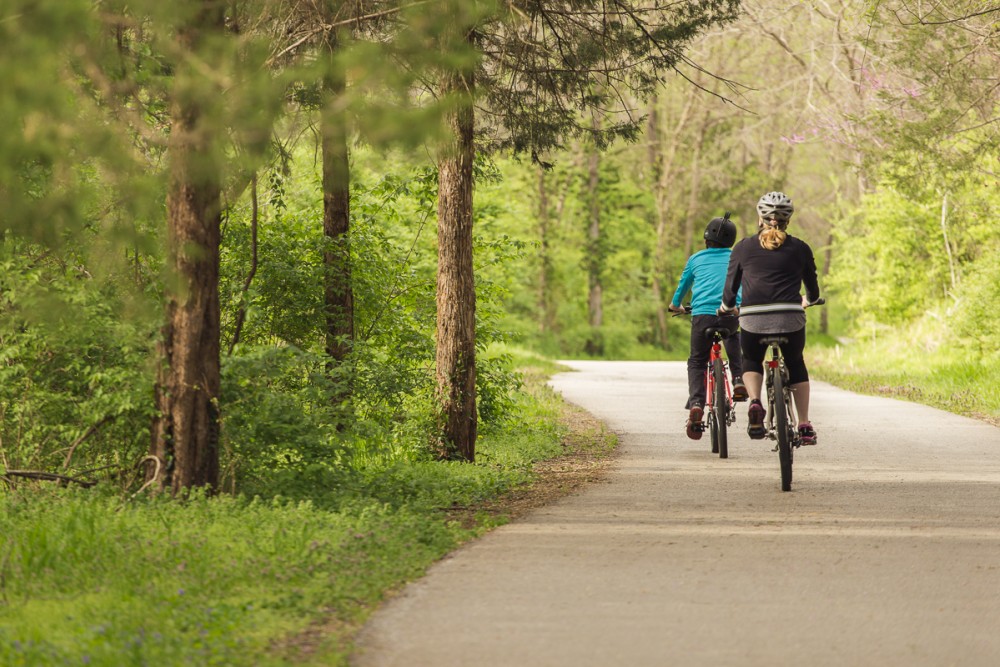 Thank you to the following Trails for Generations Donors!
Our greenway trails are an endowment to the community, provided by our members and contributors like you. The trails will endure for generations. From all of us, and from all who will benefit into the future, thank you.
$200,000 and Above
C.W. Titus Foundation

$100,000 to $199,000
Missouri Department of Natural Resources Recreation Trails Program Grant - Frisco Highline Trail
Missouri Department of Natural Resources Recreation Trails Program Grant - Fulbright Spring Greenway
O'Reilly & Wooten Families, In Memory of C. Tal Wooten, Jr.
$50,000 to $99,999
Anonymous Donor
Conco Companies

$25,000 to $49,999
19th Annual Fall Dinner & Party proceeds
Anonymous Donor
Anonymous Donor
The Wyrsch Family

$10,000 to $24,999
BKD Foundation
Bass Pro
Give Ozarks Day 2016
Give Ozarks Day 2017
Hulston Family Foundation
Katie & Mike Meek
Positronic Industries

$5,000 to $9,999
Emerald Ops

$1,000 to $4,999
A & B Cycle
Anderson Engineering, In Honor of Steven L. Brady
Anonymous Donor
Marla Calico
Leslie & Ron Carrier
Abbe Ehlers
Keith Ernce
Carolyn & John Gerdes
Cliff Jacobs
Louise & Kelly Knauer
Sally & Kurt Larson
Darci & Jim MacKay
Lisa McEowen
Ozark Mountain Ridge Runners, Frisco Railroad Run
Connie & Gene McKeen
Risdal Family Foundation
Linda & Doug Roller
Sally & Tim Smith
Jean & Terry Whaley

$500 to $999
Mike & Gayle Ashley Family Charitable Fund
Bambino's for Bikes Night
Chipotle Burrito for Bikes Night
Kendall Cook
Joyce Eiken & Bruce Adib-Yazdi
Dawne Gardner
Giving Tuesday & The Network for Good Facebook fundraiser
Jessica & Brad Hashagen
Junior League of Springfield
Tracy & Jason Krebs
The Kromrey Family
Barbara Lucks
Nicole & John Montgomery
Polk County Bike Club
Diana Sheridan

Up to $499
Catherine Black
Loring Bullard
Michael Carlie
Ann & Dave Catlin
King Coltrin
Debbie & Greg Delong
Tom & Nancy Dornan
Jane & Bruce Earnhart
Chris Flouer
Clark Harris
Ted Hillmer
David Hinrichs
Hogan Land Title
Shirley & David Hutchison
George Ives, In honor of Brandon Ives
Tory Jay
Gerri & Brad Kielhofner
Tracy Kimberlin
Peggy Day Lee
Justine & Sam Lines
Mary & Robin Luke
Susan Mathis
Michelle Moles
John Moore
Max Moore
Vern Morgan
Nathan Reed
Mike Schilling
J.D. Slaughter & Gail Emrie
Tonya Smith
Lori Tack
DeDe Vest
Bryan Vincent
Jim Webb
Wilkinson Dental
Land is ready. Plans are approved. All we need is you.
Right now, you have the opportunity to help fund 4 important trail projects for our community that will extend, connect and create a first-of-its-kind greenway, right here in the Ozarks! We have the necessary easements secured and plans ready to go. Now, we need you.
On National Trails Day, June 4, 2016, we kicked-off an initiative called Trails for Generations, to raise $850,000 to fund the construction of four fantastic trail projects! Whether you're able to support this effort with a small or large donation, you will be able to see the tangible impact of this support this year! More importantly, your help will impact both current and future generations. UPDATE: We're very close to meeting this fundraising goal...!
>> CLICK HERE TO CONTRIBUTE TO TRAILS FOR GENERATIONS
Or mail your tax-deductible donation made out to: Ozark Greenways, Trails for Generations campaign, P.O. Box 50733, Springfield MO 65805
Every dollar collected goes to build these 4 exciting trail projects!
Fulbright Spring Greenway (formerly South Dry Sac Greenway)
Let's connect the 1.5-mile trail gap from Ritter Springs Park to Lost Hill Farm Park!
Trail of Honor, on James River Greenway --- FUNDED!
The Trail of Honor will be the first greenway trail of its kind in the U.S. to pass through a National Veterans Cemetery! The very special trail section will be a portion of the James River Greenway, and also connect to Galloway Creek Greenway via the river road, to the old iron bridge. This will be a phenomenal opportunity to celebrate the ultimate sacrifice many of our military heroes have made.
Wilson's Creek and South Creek greenways connected --- COMPLETED!
On June 4, 2016, we opened the completed 1.6-mile gap connecting these two popular trails along with the new Tal's Trailhead! This is a great milestone connection for our growing trail network.
Frisco Highline Trail --- FUNDED & IN PROGRESS!
We're upgrading the Frisco Highline Trail, adding a restroom at the Willard Trailhead and making the trail friendlier for use residents, visitors and group events through improved and additional signage.
So, how do we get there?
Thanks to our incredible community, we are nearly to our goal to raise $850,000, to fund 4 awesome trail projects, and we are wrapping up this effort! Please call or email us anytime with inquiries and questions: Mary Kromrey at (417)864-1941 or mary@ozarkgreenways.org.
>> CLICK HERE TO CONTRIBUTE TO TRAILS FOR GENERATIONS
Or mail your tax-deductible donation made out to: Ozark Greenways, Trails for Generations campaign, P.O. Box 50733, Springfield MO 65805
---