Trail Update: Camping is Coming to Willard!
Category News, Projects | Posted on April 18, 2017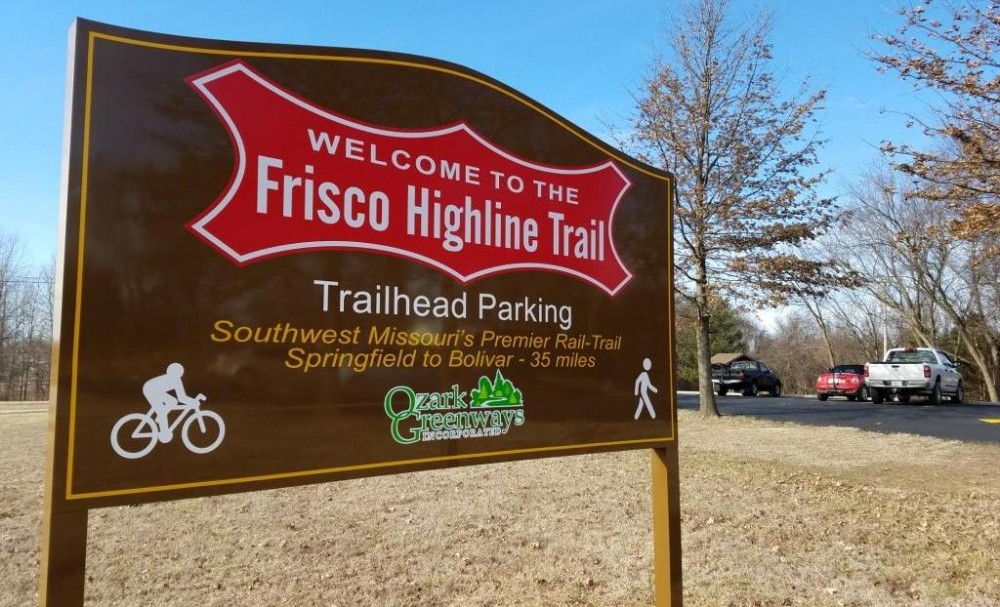 Frisco Highline Trail—There's a lot of trail activity going on in Willard, including several great improvements that are underway as we speak. Come out and see for yourself.
Construction of the much anticipated Willard Trailhead restroom inside the existing trailhead building has begun and is set to be completed in June.

The City of Willard Park Department is planning a campground for trail users next to the trail! It will be next to their soccer park, across from Junction Café and the Bullseye convenience store, at the junction of highways 160 & 123. We receive a lot of inquiries from tourists planning overnight excursions, so this will be popular with groups and individuals.

A permanently re-routed section of the trail is now completed between miles 21 and 22. This new detour has been built to avoid an ongoing erosion issue that can't be easily fixed.

Would you or someone you know like volunteer on the Frisco Highline Trail? Check our new Facebook page for current trail tasks that we can use volunteer help with at www.facebook.com/OGtrailcrew.

Ward Branch Greenway—Construction to connect the trail gap at Twin Oaks Substation Park on Republic Road will start this summer, and be completed by fall! This will create continuous trail from Cox South to The Library Center on south Campbell, and also create a new trailhead on Republic Road west of National Avenue.

Jordan Creek Greenway—Springfield Public Works is in the design phase of their Grand Street redesign, west of Kansas Expressway, to be completed in 2018. This road improvement project was chosen by the public as a priority and will add transportation infrastructure to make this section safer and more enjoyable for bicyclists and pedestrians. The trail will be routed underneath Grand Street to bypass the at-street crossing.

Fulbright Spring Greenway—Patience is paying off. The trail gap on Fulbright Spring Greenway between David C. Murray Trailhead and Lost Hill Park Trailhead will be connected by next year—as the result of two upcoming contruction phases. One phase will be completed this fall, and the next phase will connect the rest of the gap, connecting to Lost Hill Park in 2018!

You're invited to contribute to our Fulbright Spring Greenway way-finding and interpretive signage initiative during Give Ozarks, on Tuesday, May 9. Give Ozarks is a 24-hour online giving blitz for all kinds of great local causes at www.giveozarks.org.
---