Trail Update - Fall 2017
Category News, Projects | Posted on October 18, 2017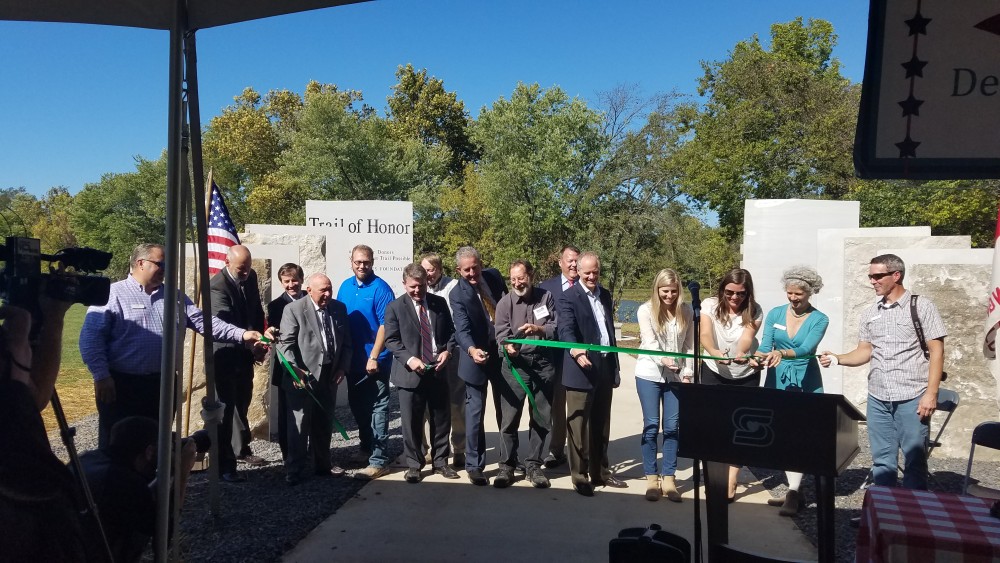 Trail of Honor Dedication Was Wonderful
October 12th was a beautiful day to unveil a fantastic new trail section on James River Greenway! The perfect weather made the day extra pleasant to wander along the ultra blue river. We're so grateful to our donors, veterans, dignitaries, and Missouri Veterans Commission leadership for supporting this unprecedented trail segment that the public will be able to enjoy for generations to come. Check out our online map to see how it links to Galloway Creek Greenway.
Galloway Creek Greenway to Reopen at 60/65
The time is finally here! According to MoDOT, we can reopen the trail under the 60/65 highway interchange in mid-November!
Volunteer Work Day—Saturday, October 28, 9am-Noon
Join us for a fun morning while helping one of our favorite trails, the Frisco Highline. Meet at Wishart Trailhead (map on our website). Bring water, dress for work. RSVP: john@ozarkgreenways.org / 864-2015
Gap on Fulbright Spring Greenway Will Begin to Connect
The 1/2-mile trail gap on Fulbright Spring Greenway between David C. Murray Trailhead and the edge of the old Fulbright Landfill is coming closer to being connected. New trail construction has begun west of Lost Hill, to be completed before the end of the year. The remaining 1.4-mile portion of the gap will be connected by September 2018. This trail is gorgeous! A portion of this connection has been made possible by a $150,000 grant from the Department of Natural Resources' Recreational Trails Program, as well as private donations from our Trails for Generations campaign.
Springfield Public Works Improves Trail Safety on Jordan Creek Greenway
Thanks goes out to our partner, Springfield Public Works, for clearing out thick brush and invasive species plants along the section of Jordan Creek Greenway north of Cruse Dog Park.
---