Trail Update, July 2018 - South Creek Greenway Gap Closer to Connecting!
Category News, Projects | Posted on July 16, 2018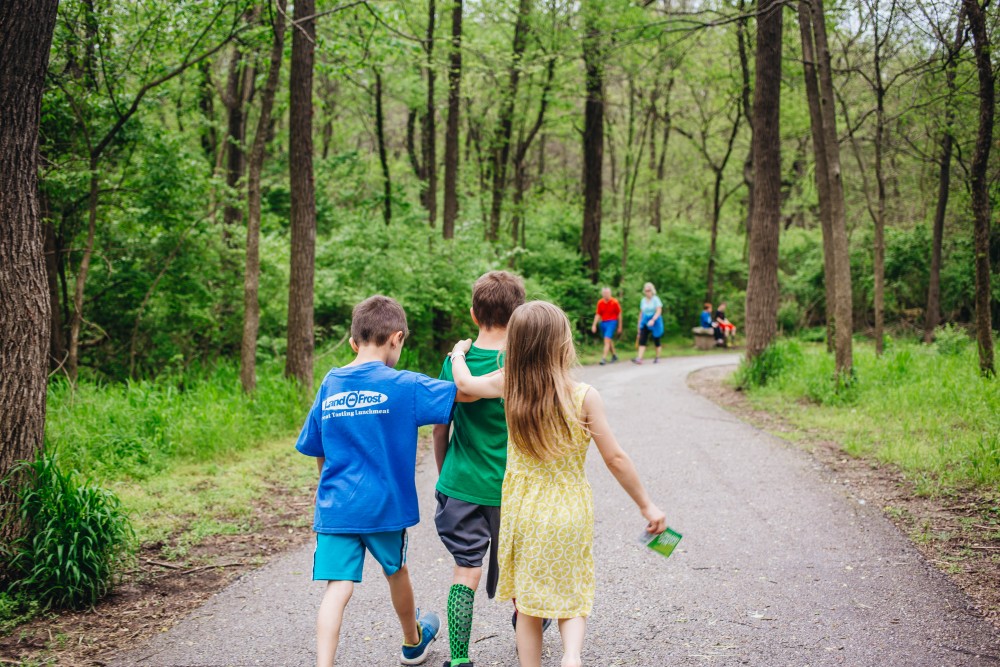 Healthy People = Healthy Places
South Creek Greenway Gap Closer to Closing!
Have you ever wondered why South Creek Greenway just dead ends? The plan has always been for South Creek Greenway to tie directly to Wilson's Creek Greenway, but since we didn't have access to the private land between the two trails—the trail stops. Well, we've got some good news for you! 

We recently received a land donation from a private landowner of 11 acres that will allow us to extend South Creek Greenway to help make this long anticipated connection! We've begun working with MoDOT on an airspace agreement to allow the trail to travel under West Bypass/Highway 160, and are working to contact the remaining landowner along the gap. We're also in the process of determining an estimated project cost, so we can begin exploring and identifying funding streams. Once these three final pieces of the puzzle are found and secured, trail building will commence. Many thanks to our donor for their generous donation of land to help fill this key trail gap. This connection is a vital link in the greenbelt developing throughout Springfield!
Conservation
Jordan Creek Greenway Extends as Public Works' Grand Street Renovation Progresses
You've probably seen the construction underway on the west side of Kansas Expressway and Grand Street. When Springfield voters completed the City of Springfield's Transportation Survey in mid-2015, they chose the Grand Street Bridge as their number one priority in need of improvement. The survey was conducted before the renewal of the 1/8-cent transportation and 1/4-cent capital improvement sales tax. Both taxes were renewed with more than 85% of voter support.

The road improvement project involves widening includes a new bridge that will allow Jordan Creek Greenway to go underneath Grand Street (woohoo!), as well as 1,700 feet of new and replacement trail, new 10-wide sidepaths, pedestrian access to and from Grand to the trail, a center turn lane, an improved railroad crossing, upgraded stormwater infrastructure, and stream restoration. The new trail connects to Cruse Dog Park, which serves as a convenient trailhead for this section. The project will wrap up in the next couple months. Exciting!

Economic Vitality
OTO Aims to Connect Ozark & Nixa by Trail
The word is out. Communities want trail networks. They see the multitude of economic and health benefits that other communities are reaping and they want the same for themselves.

The Ozarks Transportation Organization OTO) is looking at the possibilities to link Ozark and Nixa with a greenway trail! They're working with nationally renown experts at Alta Planning to plan for such a great connection. We are thrilled to see the trail bug catch on. Imagine how great and impactful this will be! To learn about what OTO does to improve transportation choices in our area, go to ozarkstransportation.org.

BUILD Grant Program Replaces TIGER
The City of Springfield is applying for a Better Utilizing Investments to Leverage Development (BUILD) Transportation Discretionary Grant. The Grant Avenue Parkway Trail Connection (GAP) transportation and economic development project is proposed as the first phase of  southwest
Missouri's largest multi-use pedestrian and bicycle pathway.

The vision is to connect the city's world-class cultural destinations, such as Wonders of Wildlife National Museum & Aquarium (WOW), nationally accredited parks and recreational amenities, and Springfield's bustling downtown district. The project also provides connectivity with our heavily used trail network and provides connections identified in the Ozarks Transportation Organization's regional trail plan.

Healthy Places = Healthy People
Next Ozark Greenways Volunteer Workday: Sat 9/8 (9-noon)
Join us for a rewarding morning of work outdoors on the Frisco Highline Trail. Meet at Willard Trailhead, 107 E. Jackson St. Bring water, gloves, and smiles. Please RSVP to john@ozarkgreenways.org or (417)864-2015. (Or just come on out on a whim!)
---