Trail Update - October 2018
Category News, Projects | Posted on October 18, 2018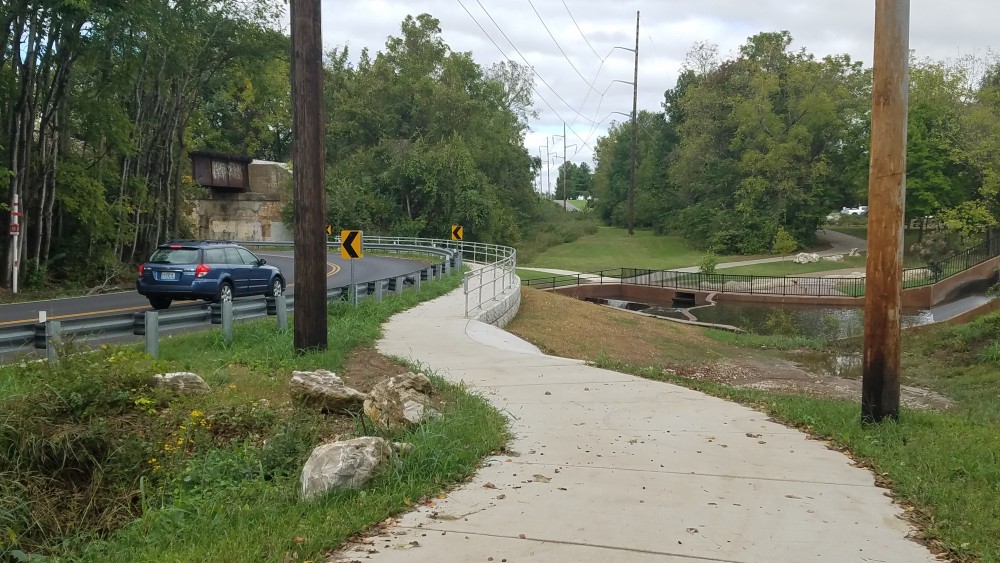 Pictured: Looking north from the new 10-foot wide sidepath along Scenic Avenue that connects to South Creek Greenway at Close Park's Drummond Lake
CONSERVATION
Fulbright Spring Greenway Gap Closing!
Oh the anticipation... We can hardly wait until the gap closes between David C. Murray Trailhead and Lost Hill Park. We're currently waiting on a few loose ends before we put the new trail section out for bids. If all goes well, we'll break ground by the end of the year! This important link will create a gorgeous 7-mile continuous natural corridor that is already becoming a local favorite. In preparation for this trail connection, six educational kiosk signs are being created with trail maps to be placed at the trailheads and highlight the area's geology, the Fulbright Landfill's reuse, the Butterfield stagecoach route, and more.

ECONOMIC VITALITY
Springfield Submits TAP Grant Applications
The City of Springfield is applying for four Transportation Alternatives Program (TAP) federal grants that if funded would help extend and enhance Springfield's greenways! The City is submitting an application to create a side-path that would connect the Brentwood neighborhood to Galloway Creek Greenway under the TAP funding program's sidewalk category. We're very excited about this potential funding for these much needed improvements. One of the City's grant proposals would update the asphalt surface to concrete on Galloway Creek Greenway from Sequiota Park to Republic Road; and two proposals would extend Fassnight Creek Greenway east to Phelps Grove Park.

HEALTHY PLACES = HEALTHY PEOPLE
New Sidepath Connects to South Creek Greenway!
Thanks to Springfield Public Works, there's now a fantastic 10-foot wide "sidepath" that safely (and very pleasantly) connects trail users to South Creek Greenway along Scenic Avenue, between Battlefield Road and Nathanael Greene Park, connecting at Drummond Lake. The new sidepath might look pretty straight-forward, but this simple retrofit to the roadway corridor is already demonstrating its benefit of providing convenient and appealing access for more residents. Sidepaths are a creative solution that can be applied in a variety of locations to create access for bicyclists and pedestrians. Cities of all sizes are using sidepaths more often due to the construction world's familiarity with their narrower cousin, the sidewalk.

Bolivar Neighborhoods Connect to the Frisco
Kudos go out to the City of Bolivar for continuing to add even more neighborhood connection trails to their north end of the Frisco Highline Trail. These connectors are very important to link existing neighborhoods as well as tie into future developments. It's all about connections, folks. There are a variety of neighborhood connector trails throughout our community greenway network. Each link has its own character and its own way in which it was developed, but all play a key role in connecting more people to more trails.
---