Why We Sponsor: Bike, Walk & Wheel Week
Category News, Spotlight On | Posted on June 14, 2018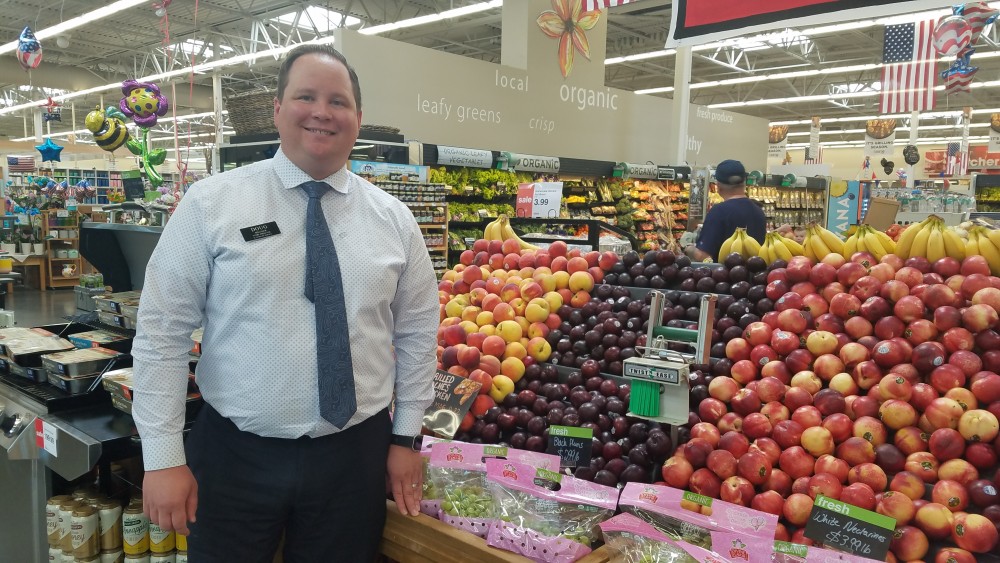 We asked our 2018 sponsors of Bike, Walk & Wheel Week, presented by Hy-Vee why their business or organization decided to be a sponsor!
Ozark Greenways was thrilled to have Hy-Vee Springfield as the presenting sponsor of Bike, Walk & Wheel Week this past May 2018! The day we spoke with Springfield's store director, Doug Mezger, the popular grocery destination was buzzing with smiling enthusiastic customers and staff. It's a really happy gathering place!

"Springfield is fortunate in that there's a real sense of community. People embrace the outdoors here. A lot of folks here want to see expanded health and wellness opportunities. They give us their feedback and they're very supportive of expanding the trail network." Doug explained.

Hy-Vee's business model focuses on wellness. They employ a fulltime dietician on site to help customers with nutritional needs. They have a large organic produce department. Their business model is a real win-win opportunity for Springfield. With their slogan "easier, healthier, happier", they are certainly dedicated to making our community better for everyone.
"Hy-Vee has a strong commitment to sustainability with our LEED building, responsibly sourced sustainable seafood, our reusable bag program, and our focus on wellness. We want to do everything we can to support biking and walking to work, and the great work Ozark Greenways is doing."
—Doug, Hy-Vee 
"For Pineapple Whip, partnering with Ozark Greenways is a no-brainer. There are so many great organizations in Springfield to work with, but what I love about Ozark Greenways is the broad range of benefits they provide the community as a resource to all ages, demographics, and locations. Everyone in the community stands to gain equally from the efforts of Ozark Greenways and that makes them a solid cause for us to get behind.""
—Zack, Pineapple Whip
"Lamar is proud to sponsor Bike, Walk & Wheel Week because it's a fun and easy alternative commute to work that brings great awareness to the greenway trails and the service they provide to the community."
—Brian, Lamar Outdoor Advertising
"O'Reilly Auto Parts is a proud supporter of Bike, Walk & Wheel Week because we care about the health and wellness of our team members, and our community. It brings awareness to the wonderful greenway trail system and the great work being done by Ozark Greenways."
—Julie, O'Reilly Auto Parts
"Ozark Adventures likes sponsoring this annual event because it reminds everyone we should take advantage of the beauty of the outdoors, both mentally and physically."
—John, Ozark Adventures
"As part of O'Reilly Hospitality's Wellness Program and Sustainability core value, we believe that Bike, Walk & Wheel Week is an important event that we enjoy sponsoring and participating in. We celebrate leaving our cars behind for a week, reducing our carbon footprint and getting valuable exercise. Team Members who live a healthy active lifestyle make for healthier happier Team members."
—Brian, O'Reilly Hospitality Management / DoubleTree / Houlihan's
"Murney sponsors Bike, Walk & Wheel Week because it shines a light on one of the wonderful amenities we have in Springfield. The robust trail system provides a great way to enjoy the natural beauty of our community and get some exercise too."  
—Kyle, Murney Associates Realtors
"Bambinos and Ozark Greenways go well together, and it makes sense for local businesses to support making Springfield more bike friendly. Lots of our customers come by bike or on foot to both of our locations. That's why we're sponsoring Bike Walk & Wheel Week."
—Andy, Bambinos Cafe
"The Alamo Drafthouse Cinema is so excited to help support Ozark Greenways and Bike Walk & Wheel Week! Getting out on your bike, walking to work or wheeling your way around town is a great way to stay active and ease the burden on our environment by putting your own natural resources to good use. The best part is, any mode of transportation will get you to the Alamo for a movie or a craft beer, so the way we see it, everybody wins!"
—Kathryn, Alamo Drafthouse Cinema
"Anderson Engineering is honored to sponsor Bike, Walk & Wheel Week again this year. The health and wellness of our employees and community is important to us, and we enjoy being apart of a fantastic cause."
—Neil, Anderson Engineering
"Expedia is sponsoring Bike Walk & Wheel Week because as a company we would like to promote healthy living and to promote reducing our carbon footprint."
—Janel, Expedia
"Kuat Racks is excited to help sponsor Bike Walk & Wheel Week because these means of commuting make our community healthier, cleaner and leave a smaller footprint on our environment."
—Boone, Kuat Racks
"Safe Kids Springfield is proud to partner with Ozark Greenways for Bike Walk & Wheel Week because it is a great awareness program for kids and adults to learn safe and healthy transportation alternatives in our community.
—Daphne, Safe Kids Springfield
"Missouri Off-Road Cyclists (MORC) supports Ozark Greenways and Bike Walk & Wheel Week because of the connections that Ozark Greenways provide. We're excited about all the ways we will be able to ride from town-to-trail, and the greenways are the artery for that possibility. The (on-street routes) help provide a great avenue to ride your bike when you can't get out to your local trail. They provide an amazing escape for the whole family."
—Josh, Missouri Off-Road Cyclists
---